Een giraf met een probleem / tekst Jory John ; illustraties Lane Smith ; vertaald [uit het Engels] door Edward van de Vendel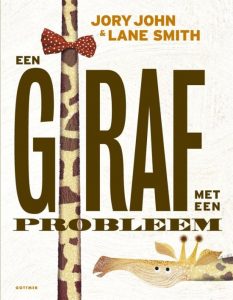 De boeken die ik voorlees in de bibliotheek, lees ik eerst altijd even op kantoor. Soms zit er een boek tussen waar ik heel hard om moet lachen. Als er een toevallige collega in de buurt is, laat ik haar ongevraagd weten hoe leuk het boek is en waarom. Ook zijn er soms prentenboeken waarvan ik de vertaling zo geweldig vind, dat ik halverwege het boek even op de boekhoek moet spieken om te zien wie de vertaler is. En dan is het altijd Bette Westera of Edward van de Vendel. Dit was zo'n boek: hardop lachen op kantoor, aan collega laten zien, vertaling door Edward van de Vendel.
Een giraf is erg ongelukkig met zijn nek. Alle dieren hebben een geweldige nek, maar die van hem is belachelijk lang. Hij probeert zijn net te versieren met overmatig veel strikken en stropdassen of zijn nek te verstoppen. De andere dieren worden moe van zijn gezeur en zijn oplossingen werken ook niet. Hij legt zijn nek dramatisch op een steen (klinkt raar, maar als je illustratie ziet snap je het).
De steen blijkt echter een schildpad te zijn: een schildpad die de nek van giraf fantastisch vindt, en andersom. De schildpad barst vervolgens los in een lang verhaal dat er op neerkomt dat hij graag een banaan zou willen eten, maar er niet bij kan. De giraf plukt de banaan uit de boom voor de schildpad en de schildpad is ontzettend blij met giraf, en zijn geweldige lange nek. Dit is het begin van een nieuwe vriendschap en samen versieren ze hun nek met een strikje.
Wat een super grappig prentenboek, zowel de illustraties als de tekst! Hier en daar is er een uitklappagina: zo'n lange nek past immers niet op een gewone pagina. Dat is wel extra leuk, maar maakt een prentenboek wel wat kwetsbaar. Hopelijk gaat dit boek lang mee.