Tussen TIK en TAK / Louise Greig, Ashling Lindsay ; vertaald uit het Engels door Ineke Ris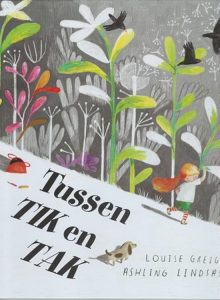 In een grauwe drukke stad vol haast gaan er, schijnbaar onopgemerkt, kleine dingen mis: een dreumes laat zijn knuffel vallen, een kat durft niet meer uit een boom, een meisje is wel erg alleen op de draaimolen, een vlinder is per ongeluk de bus ingevlogen, een zwerfhondje heeft geen baasje. Niemand ziet het, behalve een meisje in een klokkentoren. Bij die klok zit een grendel waarmee je de tijd kunt stoppen en dat doet het meisje: tussen tik en tak haalt ze de grendel over. Daarna gaat ze naar buiten om eerst een grauwe muur met vrolijke stoepkrijttekeningen te bewerken en vervolgens springt ze in de situaties en lost van alles op creatieve wijze op (of zorgt dat iemand anders dat zal doen als de tijd weer loopt).
Aan het einde van het verhaal ziet de grauwe stad er een stuk vriendelijker uit. Helaas bestaat er niet echt iemand die de tijd stopt om de boel op te lossen. Wellicht is het daarom aan onszelf om minder te haasten en beter op te letten, zodat we zelf dingen kunnen opmerken die er mis gaan en daar wat aan doen: mensen die wat troost kunnen gebruiken, mensen of dieren die een beetje hulp of aandacht geven. Dit boek is een mooie opening om het over zulke dingen te hebben. Maar het hoeft niet: het is ook gewoon een heel mooi boek om voor te lezen en samen te bekijken.