Slaap lekker! / Mattias De Leeuw ; tekst: Sylvia Vanden Heede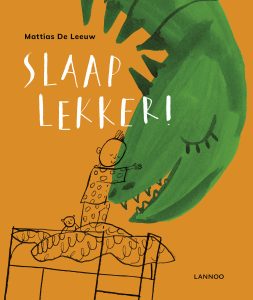 Oh, dit boek is leuk! In zwart/wit-prenten zie je een jongetje naar bed gaan. Hij klimt bovenin een stapelbed. Onderin ligt een meisje te slapen. Het enige wat kleur heeft is een oranje boek op het boekenplankje. 'Lig je al in bed?', wordt er in paginavullende koeienletters gebruld.
'Nee!', wordt er in bruine letters door de dichte deur teruggeroepen: 'Ik moet mijn knuffel nog instoppen'. Op de volgende twee pagina's zie je het jongetje zijn knuffelbeertje een innige knuffel geven, terwijl er twee enorm grote bruine beren over het stapelbed gebogen staan om mee te knuffelen.
Vervolgens roept de stem weer iets over gaan slapen, terwijl het jongetje weer een reden terug roept om dat niet te gaan doen. Het is bijvoorbeeld te heet en op de pagina is het stapelbed een rode brandweerauto geworden, het dekbed de brandweerslang en staat de hele boel in de hens. Alle fantasie in rood.
Steeds roept de stem weer wat (en begint steeds bozer dan wel wanhopiger te klinken) terwijl het jongetje de meest geweldige fantasie-avonturen beleefd. Iedere keer in een andere kleur. Zijn laatste reden om niet te gaan slapen is dat hij nog een boekje moet lezen en hij pakt het oranje boek van het plankje (dit boek!) en valt daarmee of daarna als een blok in slaap.
Een kind dat niet wil gaan slapen is natuurlijk een bekend thema, maar hier is het zo geweldig leuk en origineel uitgevoerd. Het is een feest om voor te lezen, uit voorgelezen te worden en te bekijken. Ik geloof niet dat er een moraal in het verhaal zit, maar toch wil ik graag zeggen: je moet natuurlijk ook niet door de deur je kind toeblèren, maar hem of haar lekker toestoppen en voorlezen: lekker samen die fantasie-avonturen beleven en grote kans dat een kind daarna heerlijk gaat slapen. Slaap lekker!