Met de bus / Marianne Dubuc ; vertaling [uit het Frans] : Jacques Dohmen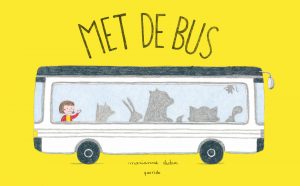 Een meisje en haar mama gaan samen naar de bushalte. Het meisje stapt in, moeder blijft achter en zwaait. Het meisje vertelt de lezer / voorleeskinderen dat ze voor het eerst alleen met de bus mag. Mama heeft een mandje meegegeven met eten en een rood vestje of jasje, voor als ze het koud krijgt (al zegt het meisje ons dat ze het nooit koud heeft).
Er stappen allerlei aangeklede dieren in en er gebeurt van alles in de bus: het meisje deelt haar koekjes met een wolvenjong, nadat ze door een donkere tunnel gereden zijn zit ze ineens op een totaal andere plek, een paar dieren met een extreem grote doos stappen in en een vos probeert zakken te rollen (maar het meisje voorkomt dit door te gaan roepen).
Het meisje had de bushaltes willen tellen, maar kwam er niet aan toe. Gelukkig herkent ze de huizen en weet ze wanneer ze eruit moet. En bij de bushalte wordt met smart op haar gewacht: het meisje was op weg naar oma! Een meisje met mandje, rood jasje, alleen op weg naar oma: ik zie een klein knipoogje naar Roodkapje.
Er is weinig tekst, maar op de vriendelijke potloodillustraties gebeurt een hoop. Daarmee is het een boek om lekker vaak te bekijken: iedere keer kun je weer een ander dier volgen en kijken wat diens verhaal is. Met de bus kwam uit kort voor de Kinderboekenweek en paste mooi bij het thema Reis mee! Ik heb het toen niet voorgelezen, omdat het zich niet leent voor grote groepen kinderen. Maar het is een heel fijn boek om voor te lezen aan één of een paar kinderen, die ondertussen goed de illustraties kunnen bekijken.