Julian is een zeemeermin / Jessica Love ; vertaling [uit het Engels]: Loes Randazzo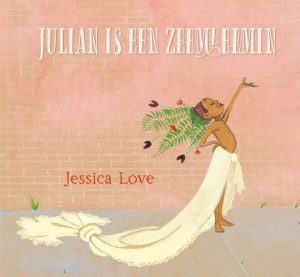 Julian is met zijn oma op stap. Op straat komen ze drie dames verkleed als zeemeermin tegen. Julian vindt ze prachtig. In de metro zit hij te dagdromen dat hij zijn kleren uittrekt, zijn haar heel mooi lang groeit en hij een zeemeerminnenstaart krijgt. De metro is veranderd in een zee en een hele grote vis geeft hem een ketting.
Thuis gekomen gaat oma even douchen en Julian kijkt om zich heen: hij haalt wat bladeren van de varens en hangt ze in zijn haar, met -om het nog mooier te maken – wat bloemen uit de vaas erbij. Hij staart naar het gordijn en even later dient het – om zijn middel geknoopt – als zeemeerminnenstaart.
Oma komt uit de douche, kijkt naar Julian en zegt: 'Oh'. Daarna loopt ze weer weg. Of jee. Dat geeft te denken: zou ze boos zijn? En waarom precies? Omdat Julian een zeemeermin wil zijn, of vanwege de plant, de bloemen en het gordijn?
Maar oma komt terug met een ketting en geeft deze aan Julian. Wat een mooie woordeloze acceptatie! En wat lijkt oma op de vis uit zijn dagdroom! (groot, dik, prachtig blauw met patroon > de jurk van oma). Oma zegt dat hij mee moet komen. Waarheen? Dat zal hij wel merken. Ze lopen naar het strand waar net een bontgekleurde optocht gaande is van mensen verkleed als zeemeerminnen, piraten en prachtige vissen en Oma en Julian voegen zich ertussen.
Een prentenboek met weinig woorden. Het verhaal wordt vooral verteld door de illustraties. Wat een mooi verhaal! Over anders zijn, diversiteit, dromen die misschien afwijken van wat men normaal vindt en van acceptatie. De voorleeskinderen vonden het ook een leuk verhaal en gingen er helemaal in mee. Een meisje vroeg: 'Waarom wil hij eigenlijk zeemeermin zijn?'. Ik zei dat ik dacht omdat hij zeemeerminnen heel mooi vindt. Dat vond ze eigenlijk wel heel begrijpelijk.