Het hele soepzootje : Het ontstaan van het heelal, de aarde, de mensen en de rest / Floor Bal ; illustraties Sebastiaan Van Doninck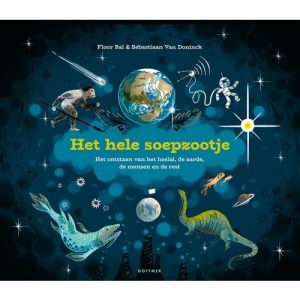 Een prentenboek over het ontstaan van het heelal, de aarde en de mens: het klinkt onmogelijk, maar dit is hem. Ik heb het boek gelezen en vond het buitengewoon interessant. Wat knap dat er met zo weinig tekst nog zoveel verteld wordt. De illustraties zijn prachtig. Er is van alles te zien en te bekijken. Ik was zeer benieuwd hoe dit boek zou aanslaan bij mijn kleine voorleespubliek, of het niet te moeilijk was, of het niet te veel tekst had. Maar besloot het er op te wagen. Toen ik de vijf boeken liet zien die ik had meegenomen, werd deze onmiddellijk gekozen. De kinderen waren ook erg enthousiast toen ik het voorlas, en geïnteresseerd. Ze stelden vragen, wilden de plaatjes extra goed bekijken. Het jongetje wist al van de dinosaurussen en het uitsterven daarvan, een meisje wist al van de oermens. Beiden waren trots op de kennis die ze dus al bleken te hebben.
Ik vind het een winnaar: er is niet veel over dit onderwerp voor jongere kinderen, het is te begrijpen voor ze, het is leuk, het ziet er zeer aantrekkelijk uit, is goed voor te lezen, ook in een groep. Een boek voor in iedere collectie dus. Al wordt daar bij streng gelovige scholen misschien anders over gedacht.
Voor kinderen tussen 4-8 jaar