Hallo deur / tekst Alastair Heim ; illustraties Alisa Coburn ; vertaling [uit het Engels]: J.H. Gever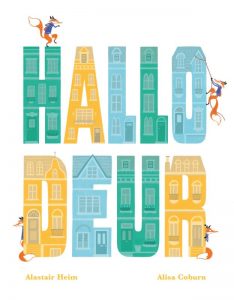 Een vos komt thuis, waar hij alles groet: Hallo deur! Hallo huis! Hallo mat! Hallo muis! Het lijkt heel lief zo vrolijk als hij alles groet, alleen … zo lief is de vos niet: het zijn zijn huis namelijk helemaal niet: vos is een boef, een dief, een inbreker!
De deurmat groet hij dan ook terwijl hij het omhoog tilt om te kijken of er niet toevallig een sleutel ligt. De muis groet hij terwijl hij achterom loopt om te kijken of hij daar misschien naar binnen kan. En hoera! Hallo (openstaand) raam!
Binnen maakt de vos er een feest van: hult zich in de jurken en jassen die hij vindt, roetsjt van de trapleuning, hoelahoept met de dure kettingen en onderwijl blijft hij alles vrolijk groeten.
Totdat ineens de bewoners van het huis terug zijn: drie beren. Een papabeer, een mamabeer en een kleine beer. Arme berenfamilie: die treffen wel vaker ongenode gasten in hun huis die zich gedragen alsof ze daar wonen. Leuke knipoog naar Goudlokje en de drie beren.
Na een achtervolging heeft Mevrouw Beer (het zweet spettert onder haar luxe roze hoedje met bloem uit) hem te pakken. Meneer Beer zet het raam open en Mevrouw Beer slingert de vos zo ver mogelijk weg. Vos komt precies terecht voor een prachtig landgoed. Heeft hij pijn? Berouw? Zeker niet. 'Hallo huis!', roept hij weer vrolijk.
Bijzonder geestig prentenboek met mooie, vrolijke illustraties. Erg leuk om voor te lezen. Voor kinderen vanaf ca. 4 jaar.