De meest eenzame walvis ter wereld / Kim Crabeels & Sebastiaan Van Doninck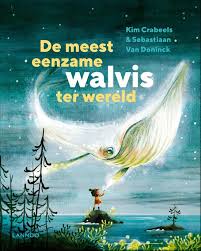 De meest eenzame walvis ter wereld is zo eenzaam omdat de andere walvissen hem niet horen en niet zien. Maar bestaat hij eigenlijk wel? Of is hij verzonnen door het meest eenzame meisje ter wereld: Lilja. Lilja woont alleen met haar vader op een schiereiland. Vader gaat vaak weg voor zeer lange tijd om zee-onderzoek met zijn duikbootje te doen en laat Lilja alleen achter. Lilja is verantwoordelijk voor het vuurtorenlicht en het Noorderlicht en verder is ze alleen maar eenzaam aan het afwachten tot haar vader terug komt. Tot ze vriendschap sluit met de walvis.
Het boek is een kleine prentvertelling met prachtige illustraties voor kinderen vanaf een jaar of negen. De tekst is dromerig en voor de betere lezer (of om voor te lezen) en roept vragen op: Hou oud is het meisje? Hoe kan haar vader haar nu steeds zo lang alleen laten? Is de walvis echt? Wat is überhaupt echt en waar gaat het over in droom of fantasie? En op het eind: heeft haar vader het eindelijk door: is hij tot inkeer gekomen? Maar misschien moet je je helemaal niet zo veel afvragen, maar het meer als een sprookje lezen.
En wellicht kan er een lotgenotenclubje opgericht worden voor fictieve meisjes die met een op wat voor manier dan ook niet zo best functionerende vader in een vuurtoren wonen en verantwoordelijk zijn voor het licht. Dan hebben we nu alvast twee leden: Lilja en Lampje.