Wonderbos / tekst: Jan Paul Schutten, illustraties: Medy Oberendorff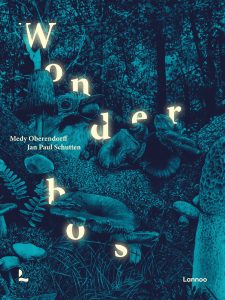 Bossen lijken een fantastische vredige plek van rust, maar niets is minder waar. Er is enorm veel leven, waar wij niet of nauwelijks weet van hebben. Bossen zijn fabrieken, kraamkamers en het toneel van moordpartijen, complotten, en list en bedrog. Jan Paul Schutten vertelt er ons in Wonderbos van alles over. Medy Oberendorff heeft het voorzien van wonderschone illustraties, die net foto's lijken.
Ieder hoofdstuk begint met een zwart-wit bosafbeelding die nooit met een fototoestel zou kunnen zijn gemaakt omdat het vol staat met dieren (wel even zoeken) die je nooit met zijn allen in èèn foto zou kunnen vangen. Achterin het boek kun je vinden welke zoogdieren, vogels, insecten, amfibieën, weekdieren, planten en sporen van dieren je op op iedere illustratie kan zien. En dan blijken het er nog veel meer te zijn dan je al had ontdekt.
De verdere illustraties door het boek heen zijn in kleur en zeer gedetailleerd en versterker de vele interessante dingen die we lezen over het bos, het (over)leven in het bos, in de nacht en in de verschillende jaargetijden. Achterin het boek staan nog leuke tips voor dingen die je allemaal kunt doen in het bos.
Het lukt mij niet altijd om informatieve boeken van begin tot eind te lezen, maar deze bleef mij boeien. Bovendien is het fantastisch om te bekijken. De zoekplaten geven het ook nog wat extra's. Ook geweldig om op scholen te hebben en te gebruiken voor thema's als bos, natuur en dieren in Nederland, seizoenen en dergelijke. Voor kinderen vanaf een jaar of 9 die geïnteresseerd zijn in natuur en dieren én voor kinderen die denken dat het bos saai is.
Won een Zilveren Griffel 2021.