Verdrietig / door Michael Ian Black ; met illustraties van Debbie Ridpath Ohi ; vertaald uit het Engels door Ineke Ris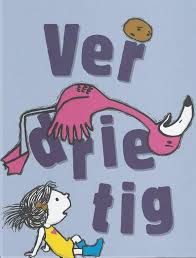 Flamingo is verdrietig. Het is onduidelijk waarom, maar daar gaat het ook eigenlijk niet om. Hij is verdrietig en denkt dat het nooit over zal gaan. Samen met zijn vrienden 'meisje' en 'aardappel' praten ze over verdrietig zijn, dingen waar je vrolijk van zou kunnen worden (blijkt per persoon te verschillen) en of de anderen Flamingo nog wel lief vinden nu hij verdrietig is. Meisje zegt dat ze hem altijd lief vindt, of hij nu vrolijk, verdrietig, boos of wat dan ook is. Aardappel zegt dat hij Flamingo sowieso al niet lief vond. Hij kijkt er ook wat boos bij. En dan lacht hij. Het was een grapje. Ze barsten met zijn drieën in lachen uit. Dat helpt Flamingo een beetje: hij is daarna nog steeds verdrietig, maar al niet meer zo erg.
Knap om een grappig prentenboek over verdrietig zijn te maken, zonder dat het verdrietig zijn zelf een grap wordt. De illustraties zijn eenvoudig en geestig en samen met de tekst (alle drie in de ik-vorm hebben ze hun eigen lettertype) maakt het een mooi boek om met jongere kinderen over verdriet te praten, maar het hoeft niet: het is sowieso een leuk boek om voor te lezen.
Hoewel het er niet dik bovenop ligt kun je er ook een paar mooie conclusies uit trekken: iedereen is wel eens verdrietig (alle voorleeskindertjes beaamden dat), verdrietig zijn mag, erover praten helpt, het is voor iedereen verschillend waar je vrolijk van wordt, lieve vrienden hebben helpt en een grapje kan helpen.
Van grapjes maken houdt de schrijver sowieso wel denkt ik: als je hem googled blijkt het een comedian. En trouwens ook acteur, regiseur en schrijver van filmscripts (zo schreef hij met Simon Pegg het filmscript voor Run Fatboy Run: erg grappige film). Ook blijkt hij nog twee prentenboeken over gevoelens met deze drie personages te hebben geschreven: I'm bored (het meisje) en I'm worried (de aardappel). Ik ben benieuwd of die ook vertaald worden. Van mij mag het.