Neverworld Wake / Marisha Pessl ; vertaald [uit het Engels] door Annelies Jorna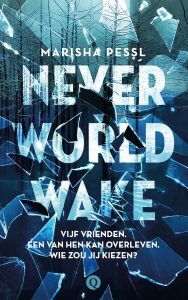 Het was niet de kaft die mij aantrok, en ook niet de titel: het stootte ook niet af, maar beiden vind ik vrij nietszeggend eerlijk gezegd. Het was de aanschafinformatie die mij deed besluiten het boek te lezen. Ik hoop dat de doelgroep (jongeren vanaf een jaar of 15) wel door de kaft worden gegrepen, of elkaar tippen over dit boek of dat bibliothecarissen ze op weg helpen, want het is een geweldig spannende doorlezer.
Bee (Beatrice) is een jaar lang volledig kapot van de mysterieuze dood van haar grote liefde Jim. In die tijd heeft ze totaal geen contact meer met de hechte vriendengroep waar zij en Jim toe behoorden. Als een van hen haar een uitnodiging stuurt, grijpt Bee deze aan in de hoop via haar oude vrienden meer te weten te komen over de dood van Jim. De avond wordt een teleurstelling en ze eindigen met zijn vijven in een cabrio waarmee ze een ongeluk krijgen. Aanvankelijk chagrijnig en drijfnat geregend hebben ze niet door hoe ernstig het ongeval was, tot een zonderlinge oude man hen komt vertellen dat ze in de Neverworld terecht zijn gekomen. De Neverworld is een tussenwereld waarin ze deze dag continu opnieuw zullen beleven: ze zitten gevangen in een loop. De enige manier om daaruit te komen is door aan het einde van de dag, tijdens de wake, unaniem te beslissen wie er als enige door mag leven.
Wat krijg je dan? Ik moet niet te veel verklappen, maar een hoop psychische ellende en gestoordheid komt voorbij, geheimen die iedereen blijkt te hebben, fantasy, tijdreizen. Ook is dit boek een whodunit (want wat is er toch gebeurd met Jim?). Oneindig veel keer maken de vrienden (zijn het nog wel vrienden?) de dag opnieuw mee, maar nooit wordt het saai. Een boek dat je laat doorlezen en dat blijft verassen. Aanrader!