Kapper Tom / scenario & illustraties: Arnold Hovart ; tekst: Danny De Vos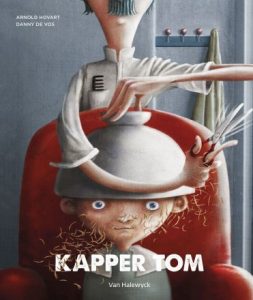 Kapper Tom is niet bepaald goed in zijn werk. Gelukkig bedenkt hij op een dag dat als hij zijn soepkom omgekeerd op het hoofd van zijn jonge klant zet, het heel makkelijk knippen is. Het soepkomknippen wordt een groot succes. Er komt zelfs een 'boyband' langs. Ze krijgen een soepkomkapsel en lijken vervolgens verdacht veel op The Beatles. Maar op een dag breekt helaas de kom.
Wanneer een jongedame, zonder soepkom geknipt, het resultaat in de spiegel ziet, gaat ze er krijsend vandoor. Tom is een kapper van niks en moet een plan verzinnen. Hij gaat naar het naburige kringloopwinkel van Kaat, en komt terug met een doos vol attributen. Nu gebruikt hij bij iedere klant een attribuut dat bij zijn of haar persoonlijkheid of baan past om het haar te knippen. Het resultaat, dat je steeds te zien krijgt als je de pagina openklapt, is hilarisch. Niet alleen de voorleeskinderen moesten lachen: hun moeders lachten nog veel harder.
Ik zal het eind niet verklappen van dit geweldig leuke prentenboek op rijm. Hier en daar is de tekst wat moeilijk, maar dat mag absoluut de pret niet drukken. Bovendien zorgen de illustraties, van de attributen en vervolgens de kapsels, dat het toch te volgen is voor de jongere kinderen. Enige nadeel is dat het boek met de grote openklappagina's behoorlijk kwetsbaar is. Dus of de boeken (en vooral de bibliotheekexemplaren) een lang leven beschoren zijn durf ik niet te garanderen.
Zelf lezen vanaf ca. 8 jaar, voorlezen vanaf een jaar of 6.