De Grotteling / Benji Davies ; vertaald [uit het Engels] door Edward van de Vendel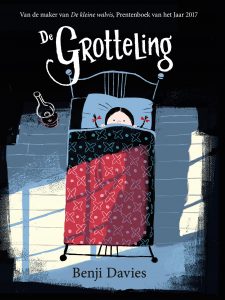 Wat een schitterende illustraties maakt Benji Davies toch! In Nederland is hij vooral bekend door De kleine walvis: Prentenboek van het jaar 2017.
De Grotteling speelt in Engeland, maar dan een jaar of 100 geleden. Enige uitleg aan de kinderen die je voorleest is daarbij wel handig. Vooral aan te raden is de eerste prent goed bekijken: de prent van voor het verhaal begint. Aangezien het verhaal draait om alles en iedereen die je op die prent ziet: een chagrijnige orgelman met een vastgebonden aapje, een jongen op het dak, een meisje voor het raam en een typisch Engelse politieagent die door mijn voorleespubliek niet als politieagent herkent werd.
Het wijsje dat de orgelman draait is een liedje over de enge Grotteling. Het meisje voor het raam krijgt vervolgens het liedje niet uit haar hoofd en gaat angstig in bed liggen, want wellicht komt de Grotteling. En ja, hij komt inderdaad. Iedereen ziet hem, of eigenlijk net niet. Overal jat hij wat weg en laat mensen geschrokken achter. De kinderen die goed naar de prenten kijken zien wie de Grotteling daadwerkelijk is. En jat hij alles wat los en vast zit, of heeft hij een plan? Uiteindelijk wordt het allemaal duidelijk en heeft alles te maken met die eerste prent.
Wat een leuk boek om te bekijken en voor te lezen. En met enige hulp en uitleg aan de kinderen zien ze meer en doen ze lekker enthousiast mee.