Boe! / Kate Read ; vertaling [uit het Engels]: Jesse Goossens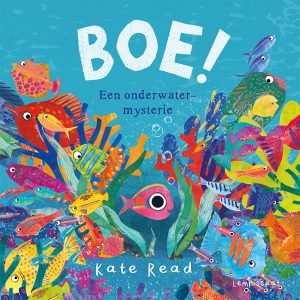 Over het algemeen zijn prentenboeken voor peuters niet spannend of eng. Het spannendste wat er gebeurt is dat mama of de lievelingsknuffel kwijt is. Uitzondering daarop zijn de prentenboeken van Kate Read: in 2019 kwam uit in Nederlandse vertaling de telboek-thriller Eén vos en dit jaar een lekker spannend 'onderwatermysterie'.
Omdat het kleine roze visje zich verveelt roept ze 'Boe!' tegen een andere vis. Die schrikt zich een ongeluk en roept 'Help! Er zit daar iets engs!' Dit is het begin van een gerucht dat zich langzaam onder de zeedieren verspreidt en uiteindelijk steeds groter wordt tot alle zeedieren volledig in paniek zijn omdat het verhaal is opgeblazen tot een groep monsters met messcherpe tanden die iedereen komen opeten.
Gelukkig weten de zeedieren te ontsnappen door met zijn allen een veilige, diepe, donkere grot in te zwemmen. Alleen is de veilige grot voor de kijker/lezer duidelijk herkenbaar als de enorme bek van een groot zeebeest die vervolgens 'HAP!' zijn bek dichtslaat.
Komt het goed? Jazeker! Maar de peuters die ik voorlas hadden wel lekker zitten griezelen. Tè eng was het totaal niet. Waar Kate Reads vorige spannende prentenboek voor peuters een telboek was, komen er in het onderwatermysterie allerlei kleuren voorbij (de paarse kogelvissen, de gele aal, de zilvergrijze haaien). De vrolijke kleuren spatten ook bijna van de pagina's af. Op de laatste twee pagina's staat nog een klein lesje over kleuren: primaire en secundaire kleuren, kleuren mengen en de kleurencirkel.
Een spetterend, kleurrijk, klein beetje spannend, maar vooral heel grappig prentenboek voor peuters en kleuters rond het thema kleuren.