Adder / Bex Hogan ; uit het Engels vertaald door Robbin Besselink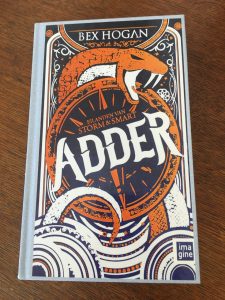 De 'Adder' is de beschermheer van de zeeën rond de zes eilanden. Dit doet hij in naam van de koning, vanaf zijn schip 'De dame' en met de hulp van zijn bemanning: de 'Slangen'. Dat 'beschermen' gaat op wrede wijze: martelingen en moord worden niet geschuwd. De bemanning wordt opgeleid tot keiharde moordmachines. De enige die daar een probleem mee lijkt te hebben is de dochter van de Adder: Marianne. Zij voelt zich meer aangetrokken tot het genezen van mensen dan tot geweld tegen ze gebruiken. Alleen houdt ze dat verborgen voor haar vader, die haar met zeer harde hand opvoedt en geen tegenspraak of tegenwerking duldt.
Nadat ze zonder ook maar op de hoogte te zijn gesteld wordt uitgehuwelijkt aan de kroonprins, als ze ontdekt dat haar vader helemaal niet zo trouw is aan de koning, en haar vader haar tot moord dwingt, is voor Marianne de maat vol: ze ontsnapt en besluit zich tegen haar vader te keren om de mensen van de zes eilanden juist te beschermen tegen hem. Aanvankelijk lijkt ze daar helemaal alleen in te staan, maar langzamerhand duiken onverwachte metgezellen op.
Voorin het boek staat een mooi kaartje met rechts de zes eilanden. Ieder eiland heeft een specifieke eigenschap en is daar ook naar vernoemd. Links staan nog zes eilanden: ze zijn wat wazig getekend en hebben alleen een nummer. Rondom die eilanden zijn grote zeemonsters getekend. Deze eilanden worden behoorlijk genegeerd door de bemanning van De Dame, maar ook door de bewoners van de zes eilanden: het zou er een gevaarlijk anarchie zijn en in de wateren rondom die eilanden zouden dodelijke zeemonsters leven. In de loop van het boek wordt er beetje bij beetje meer over deze eilanden en de geschiedenis onthult en komen ze steeds meer in beeld.
Adder is van begint tot eind enorm spannend en leest lekker weg. Fijne fantasy voor jongeren vanaf een jaar of 15. Eerste deel van een serie.