Hoeveel bomen? / Barroux ; Nederlandse vertaling Lidewij van den Berg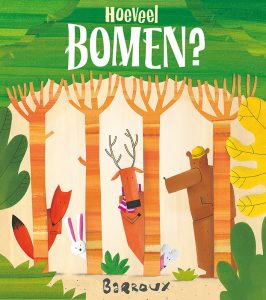 Hoeveel bomen heb je nodig voor een bos? Dat is nog eens een originele vraag voor een prentenboek. De voorleeskinderen deden wilde gokken. En tja, ik zou het ook niet weten eigenlijk. De dieren in het bos denken het echter wel te weten, al houden ze er allemaal een andere mening op na. Het hert geeft als eerst zijn mening. Hij is immers de koning, zo beweert hij in ieder geval. Hoewel hij dat vaak blijft herhalen om zijn gelijk te krijgen, is er nergens enige bevestiging: er is geen kroon en geen van de dieren lijkt er in mee te gaan, maar dat terzijde. De meningen variëren van zo maar een getal roepen, tot er een reden bij geven. Een bepaald aantal bomen zijn bijvoorbeeld minimaal nodig om verstoppertje te spelen, of juist om je te kunnen verstoppen voor de jager. Het aantal dat genoemd wordt, wordt steeds minder. Toen een van de dieren beweerde dat er vier bomen nodig zijn, voor ieder seizoen één, ontstond er wat beroering bij de voorleeskindjes: in de andere aantallen en redenen konden ze meegaan, maar hier klopte toch echt iets niet 🙂
Terwijl de dieren van alles roepen, klinkt er steeds een piepstemmetje uit de bosjes: een klein diertje wil de hele tijd ook iets zeggen. Als hij eindelijk de kans krijgt om het te zeggen, blijkt hij meer te begrijpen van bomen dan de andere dieren: één boom heb je nodig, want uit de zaadjes van die ene boom kan een heel bos groeien. Opgelost? Zelf zit ik een beetje met de vraag hoe je dan aan verschillende soorten bomen kan komen, maar daar heb ik de kinderen maar niet mee lastig gevallen. Bovendien loopt het verhaal uiteindelijk uit in een nieuwe vraag: Wat was er eigenlijk eerder: de boom of het zaadje? De kinderen hadden dus wel iets anders om over na te denken.