De beer en de nachtegaal / Katherine Arden ; vertaald [uit het Engels] door Inge Boesewinkel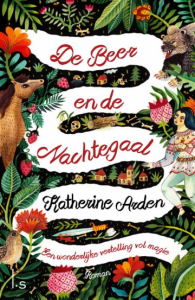 Toen ik dit boek laatst tussen de net geleverde nieuwe boeken voor onze collectie zag, was ik eigenlijk meteen al verkocht door de kaft. En na het lezen van het boek kan ik zeggen: nu ben ik helemaal verkocht. Op de kaft staat in kleine letters 'Een duister en magisch sprookje voor volwassenen'. Dat klopt helemaal, maar ik zou er aan toe willen voegen 'en jongeren vanaf een jaar of 15'. Wel de ervaren, enthousiaste lezers. Het boek is heel mooi, maar niet makkelijk. Ook zitten er veel personen en wezens in die bijna allemaal met meerdere namen worden aangesproken. Gelukkig zit achterin een lijst van belangrijke personages en een verklarende woordenlijst.
De Beer en de Nachtegaal is het eerste boek van deze schrijfster: een magisch verhaal waarin ze allerlei Russische sprookjes, fabeldieren (waarbij ik enkele al kende uit het prachtige Fabeldieren van Floortje Zwigtman en Ludwig Volbeda) en geschiedenis heeft verweven. Vasja groeit op in een afgelegen gebied in Middeleeuws Rusland, waar de mensen goede huisgeesten kleine offers brengen. Vasja kan als een van de weinigen de wezens zien en met hen communiceren. Wanneer de nieuwe dorpspriester op straffe van hel en verdoemenis de dorpsbewoners verbiedt te geloven in en offers te brengen aan deze geesten, verzwakken ze en kunnen het dorp niet meer beschermen tegen kwade krachten van slechte demonen. Vasja doet er alles aan om het kwaad te bestrijden, maar wordt beschuldigd van hekserij. Als oplossing wil men haar uithuwelijken of in een klooster onderbrengen. Beide oplossingen zouden een enorme straf zijn voor Vasja, een vrijgevochten meisje dat niet van plan is onderdanig te zijn aan een echtgenoot of aan God. Bovendien heeft ze een dorp te beschermen.
Fijn om in de aanschafinformatie te lezen dat dit het eerste deel is van een trilogie. Ik verheug me op de volgende delen.