Niets / Janne Teller ; vert. [uit het Deens] door Maaike Lahaise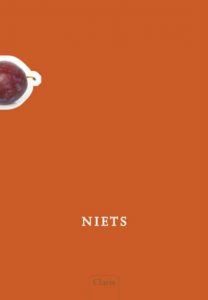 Op een dag loopt Pierre Anthon de klas uit tijdens de les terwijl hij nog even laat weten dat er niets van betekenis is en dat het daarom geen zin heeft om iets te doen. Hij gaat in een pruimenboom zitten en bekogelt vanaf dat moment zijn klasgenoten die onderweg zijn naar en van school met pruimen en wijsheden over de zinloosheid van het bestaat. Vooral die uitspraken raken zijn ex-klasgenoten enorm. Eigenlijk omdat ze doodsbang zijn dat hij gelijk heeft. Als ze hem met stenen niet uit die boom krijgen, besluiten ze hem met betekenis uit de boom te krijgen: ze gaan een berg van betekenis maken waarop ieder iets van, voor hem of haar, zeer grote betekenis moeten achterlaten. En wat dat is mag je niet zelf bepalen, dat doen anderen voor jou. Op deze manier worden er wel heel erg betekenisvolle zaken van de klasgenoten afgenomen en wat er voor de ander bedacht wordt is in eerste instantie gemeen, maar gaat daarna van kwaad tot erger. Heel veel erger: strafbaar, psychopatisch en gewelddadig. Uiteindelijk valt de klas door de mand en is het sowieso de vraag of ze de berg van betekenis aan Pierre Anthon kunnen laten zien en of het de gewenste uitwerking op hem heeft.
Geen nieuw boek (in Denemarken uitgekomen in 2000 en in 2010 in Nederlandse vertaling), maar wel erg interessant, hard, zwart en gemeen. Een boek om over na te denken, een boek dat blijft hangen. Vanaf een jaar of 14.