Lezen is voor losers! : hoe je lezen kunt volhouden zonder echt te lezen / bedacht door Arthur & Henry Bacon ; opgeschreven door Beth Bacon ; vertaling Studio Bos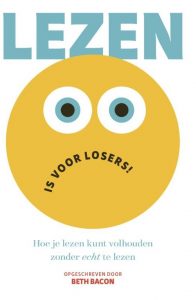 Wie wordt nieuwsgierig van deze titel? De enthousiaste lezer of de leeshater? Ik in ieder geval. Dit boek zat deze week bij de nieuwe boeken en ik heb het in één ruk uitgelezen. Dat duurde hooguit een paar minuten. Met extreem weinig woorden per pagina, maar met veel grapjes, krijg je tips over hoe je kunt doen alsof je leest, terwijl je dat niet doet. De grap is uiteindelijk dat de leeshater in plaatst van het lezen vermijden alsnog een boek zit te lezen, zonder plaatjes nog wel. Want grote kans dat ze dit boek uitkrijgen. Volgens de aanschafinformatie 'Een toegankelijk, maar soms wellicht wat flauw en negatief boek voor niet-lezers'. Flauw? Wellicht ja, maar daar houden veel kinderen van. Negatief? Ja en nee: het lijkt alsof de Bacons (familie neem ik aan) negatief zijn over lezen, maar eigenlijk laten ze met dit grappige, laagdrempelige boek zien dat er zelfs voor de leeshater wel een grappig boek is. Ik denk dat het een eye-opener kan zijn, een opstapje naar toch eens een boek proberen. Aanrader voor de onwillige lezer vanaf 8 jaar.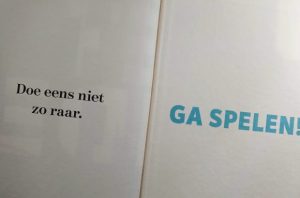 Maar jammer jammer: op het einde van het boek vragen de makers zich af waarom je nog zit te lezen, maar heeft NDB-Biblion de RFID-sticker in ons bibliotheekexemplaar midden over 'GA SPELEN!' geplakt, waardoor dat nauwelijks te lezen is. Ik weet niet of er een gouden regel is over precies in het midden plakken, maar volgens mij moet de gouden regel zijn: niet over tekst of illustratie plakken als dat te vermijden is.