De lovebus / Tjibbe Veldkamp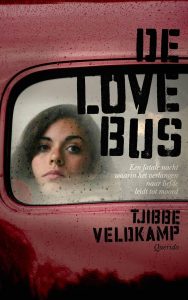 Het doel heiligt de middelen. De lovebus draait om een aantal personen die zo graag iets willen, dat ze daar enorm ver voor gaan:
J.J. wil Cathelijn, Cathelijn wil niet meer eenzaam zijn, Tammo wil seks en Mina wil Tammo. Eigenlijk had het ook allemaal goed kunnen gaan als de juiste personen op het juiste moment het juiste hadden gedaan of gezegd tegen de juiste persoon. Maar zo ging het niet, zo ging het heel erg niet. Alles ging net anders, verkeerde beslissingen werden genomen (heel erg verkeerde beslissingen). Het verlangen naar liefde en seks, het onbegrip, het niet naar elkaar luisteren: het leidde allemaal naar een hoop ellende en geweld, moord en doodslag.
Het verhaal wordt vanuit bovenstaande vier personen beschreven en springt heen en weer door de tijd. Soms wordt het verhaal dat je eerder hebt gelezen uit de mond van een ander opnieuw verteld door een ander persoon en is het meteen een heel ander verhaal.
Het verhaal speelt zich af in de provincie Groningen in de jaren '70 rond een tot bar/disco omgebouwde boerderij en het busje genaamd De lovebus. Het busje is geen gezellige hippiebus (zoals Cathelijn had gehoopt) maar een busje dat je kan huren om seks in te hebben. Hier en daar wordt Gronings dialect gesproken, maar er is meestal uitleg bij. Wie geen moeite heeft met de tijd en locatie waarin het speelt of met het verspringen in verhaal tussen personen en in tijd, heeft hier een boek dat leest als een trein.
Inspiratie voor dit verhaal zou komen van een tweevoudige moord die destijds plaats vond.
De lovebus is genomineerd voor de BruutTAAL Gouden Lijst 2018, zeg maar de Gouden Griffel voor boeken voor jongeren vanaf 12 jaar.