Dat staat je goed! : hoe kleren ons maken / Josje van Koppen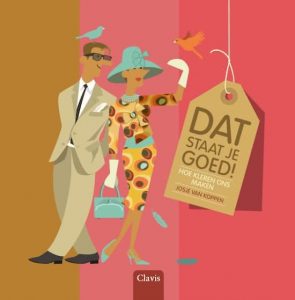 Er zijn niet of nauwelijks kinderboeken over modegeschiedenis, maar hier hebben we er een! Een tekstloos informatief boek met illustraties van kostuums van Adam en Eva tot op heden, waarbij het heden uitgebreider aan bod komt met onderwerpen als kinderarbeid, koopziekte, shoppen, bloggen, vloggen, keuzestress en trends (zoals bijvoorbeeld de onesie).
Een heerlijk boek om te bekijken, om van alles in te herkennen, met hier en daar een klein grapje. Gelukkig eindigt het boek met een verantwoording, waarin alle illustraties piepklein afgebeeld staan met daarbij (toch tekst) jaartal, type kledingstuk of situatie en soms ontwerper of model. Zo had ik een en ander al herkend, maar had ik de aanvulling niet willen missen. Sommige kledingstukken waren wel erg bijzonder, maar bleken daadwerkelijk bestaande ontwerpen. Zelfs als het boek uit is, is er nog van alles te bekijken: op de achterkant staan ook weer een stuk of 50 outfits die niet in het boek stonden afgebeeld. Voor de liefhebber van mode, kleding en kostuumgeschiedenis. En, als de juf of meester er wat mee kan, heel leuk te gebruiken bij schoolprojecten over geschiedenis, kunst, cultuur, maatschappij, uiterlijk, smaak. Met enthousiasmerende inleiding die eindigt met 'Vandaag gaat er veel geld om in de kledingindustrie. Designers, trendwatchers, modemagazines en bloggers, ze roepen allemaal wat 'in de mode' is. Speel zelf met vormen, kleuren, materialen. Laat zien wie jij bent, want je eigen stijl staat je altijd goed!'
Voor welke leeftijd? In de boekhoek van bibliotheekexemplaren staat 6 tot met 10 jaar. Ik plaatst het hier bij 9-12, maar eigenlijk is het bruikbaar met begeleiding vanaf 6, zelfstandig vanaf 9 en leuk voor iedere leeftijd (zolang het onderwerp je aanspreekt).